27th April, 2016
Reid Auditorium, Reid Building, The Glasgow School of Art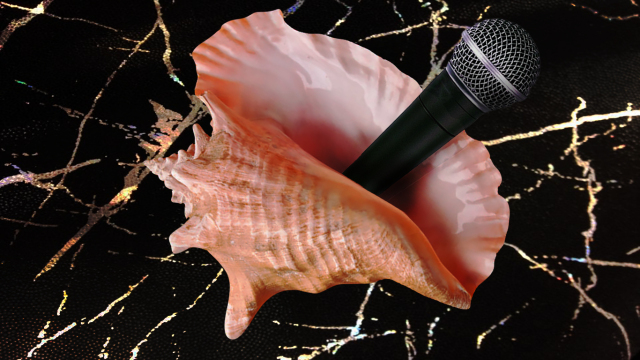 There's a Special Place in Shell… is a new performance by Foote & Mouth that explores the role of the Banshee and the Siren. By focusing on these characters, the work creates a dialogue between two folkloric female archetypes and the degradation of women through patriarchal mythologies. These themes are pursued through animation, text, song, costume, and comedy. The Banshee and the Siren glean their sense of agency from three overlapping features: voice, water, and death.
Foote & Mouth is a performative duo between Kathryn Ashill and Monica Foote. Their mutual interest in props, theatricality, and spectacle has brought them together.
Amateur dramatics, theatre flats, stage lighting, public monuments and performance are central to Ashill's practice. Kathryn aims to pursue the theatricality in the everyday whilst sharing her observations on autobiography, people, history and site. There is a strong participatory spirit within the live performances Ashill creates. Within her practice, Monica Foote plays the role of animator, performer, and choreographer. In compartmentalising the roles of the artist, Foote's practice effaces the notion of the homogenous individual, which is in line with her broader interest in the spiritual, cultural, and folkloric codes that people use to escape the limitations of the self.
All photos of performance by GSA FAP student Jack McCombe.
Review: gsaexhibitions.wordpress.com/2016/06/14/review-theres-a-special-place-in-shell-foote-mouth/