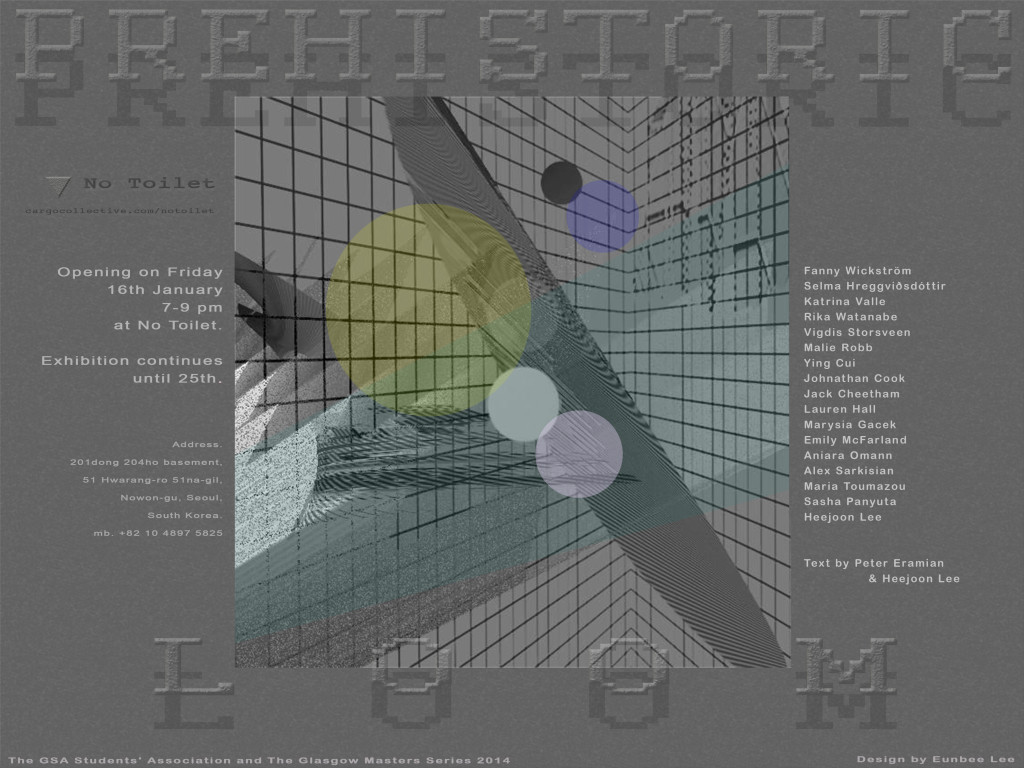 The first group exhibition at No Toilet, organized by Heejoon Lee and the Glasgow School of Art MFA 2014 graduates. A conversation project related to the show is edited and presented by Peter Eramian and Heejoon Lee.
Opening on Friday 16th of January 7 – 9 pm. The exhibition continues until 25th.
Prehistoric Loom; A Networking of Friendship through Drawing.
Prehistoric Loom is a show organized by Heejoon Lee and his friends who have studied together at Glasgow School of Art. The show is presented to examine the network of friendship by sending drawings that the members have made since the graduation. Friendship, which can be the most valuable relationship that a person can share between individuals, is a unique interactive bond that the participants are putting into the context. In the days where Social Networking System is dominating our ways of relationship, the method that Heejoon and his friends has chosen brings a question to the system that we are so used to. Here, drawing is an alternative medium of the situation and a platform that works as a catalyst to open ideas, memories and feelings. Furthermore, it is an intellectual method of visualization and communication of contemporaneity, which the history of it goes until the prehistoric time and beyond the future.
By starting from No Toilet in Seoul, the show will travel around the world where the members of friend are living currently. The next exhibition will be at Yada Shimin Gallery in Nagoya on 10th of March till the 15th of March. There are possibilities to present to the show in Beijing, New York and Glasgow.