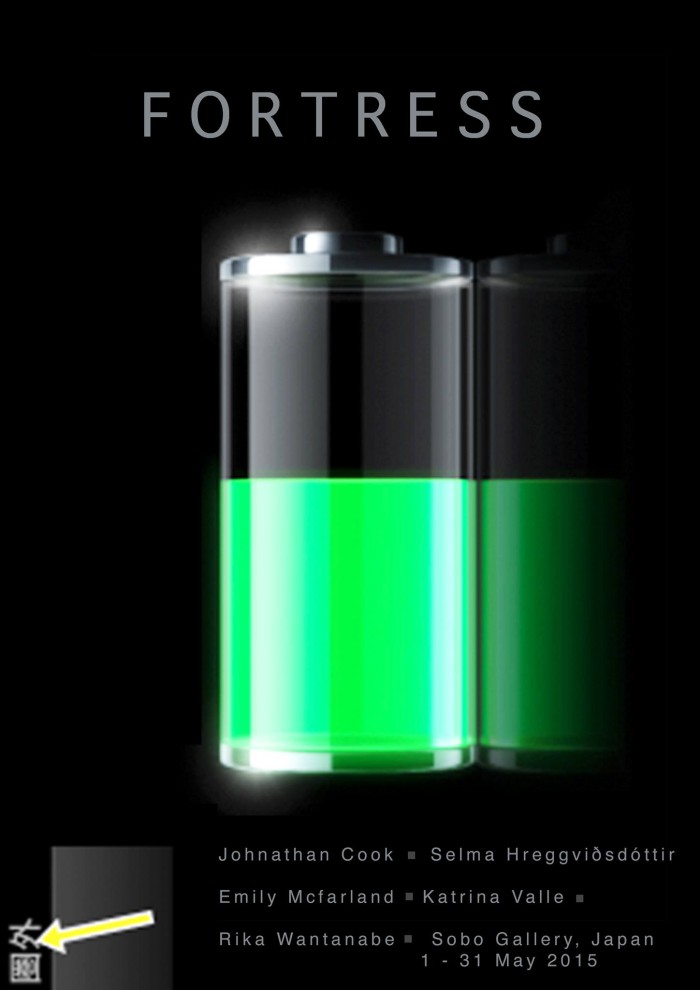 Fortress
2015.05.01 – 2015.05.31
Kakuouzan Apartment, Nagoya, Japan
Artists:
Johnathan Cook, Emily McFarland, Selma Hreggviðsdóttir, Katrina Vallé and Rika Watanabe
___
The Wasei-eigo (Japanese-made English) "Mansion" was created in the 1950's to differentiate concrete apartments from wooden ones. At this time, most apartment dwellers shared kitchens and toilets with their neighbors. The fibrous nature of wood allowed sound to reverberate, as an instrument might, and within the wooden home you always heard your neighbor. You might have encountered the sounds of someone cooking while talking to himself; it is here where public and private spaces became indistinguishable. The home of concrete – with private bathrooms and kitchens – was allocated for the wealthy. However, the rise of the Japanese economic bubble in the 80's brought about changes that allowed the concrete market to expand to the masses.
We consider a private space to be one of luxury. When we book a room for a holiday, we pay much more for a suit as opposed to a dorm. Indeed, the market has mobilized to accommodate our appetite for extravagant solitude through a range of ancillary services as well. Munich airport, for example, offers vibrating sofa sessions for the globetrotting professional demographic. Pulverized by workaday life but with money to burn? Then for 2 euros, you too can rent ten minutes of pulsating escapism. Alternatively, for those suffering the digital Tinnitus of modern life, there are "range vacations." For 1,000 yen, one can purchase an hour-long Zazen experience at a temple in Kyoto, or to completely escape the technological white noise, overnight trips to a remote "out-of-signal" island are also on offer for 2,3000 yen. In America, one need not venture far to withdraw from the world thanks to sensory deprivation chambers. Various "isolation flotation centers" allow customers a therapeutic return to the womb for a mere $60 per session,
She turned off her phone during her trip and she talked only to the residents in the island.
With blue sea and deep green, she was able to forget her relationships, work and worries about her future.
Is traveling through our subconscious minds the same process as healing? Our internal worlds might be the only secrets that cannot be removed or shared with others. Might this shrouded realm even be vital to our very physical existence? What would happen if you could see the thoughts of others, and they yours? As it is, to have the ability to truly share one's inner world without pretense, one must first have time for introspection. That is to say, one must be alone in order for a dialog between conscious and unconscious to occur.
While I pose, I become a free standing sculpture that bounce people's gaze back to them.
I try not to move, then I realize that my body actually exists and has its limit.
As a means of contemplation and escape, the artist's studio shares many characteristics with the solitude-to-order services proved by the market, albeit within a more familiar/domestic context. To make work, an artist needs to first be a viewer; a watchman who perpetually observes the phenomena of inner movements and thoughts. Moreover, they must also anticipate external perceptions, to see their work through the eyes of strangers. With that said, artworks are very much influenced by the maker's private life, sociopolitical views and geographical placement; they are manifestations of the artist's unconscious, and to reach them he or she must work in the studio under a state of quasi quarantine, then translate these whispers into a type of visual lingua franca. A work is only truly complete once the public sees it. In this sense an artistic "manifestation" is more akin to the French meaning of the word: a protest, a civic airing of a particular, often utopian, worldview. In the end, the desire for isolation can be a communitarian impulse that catalyzes the spread of ideas.