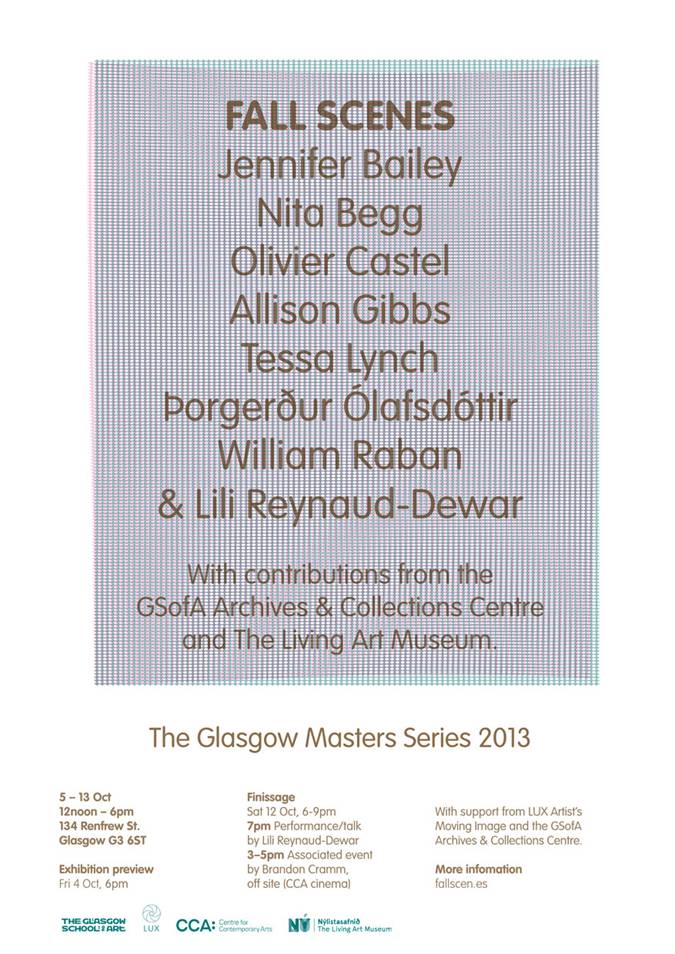 Fall Scenes 
: 
Jennifer Bailey, Nita Begg, Olivier Castel, Allison Gibbs, Tessa Lynch, Thorgerdur Olafsdottir, William Raban and Lili Reynaud-Dewar, with contributions from The Living Art Museum (Iceland) and the GSA Archives. Developed in conversation with Sarah Tripp.
Preview: Fri 4 October, 2013, 6pm
Sat 5 – Sun 13 October, 12-6pm
134 Renfrew St, Glasgow, G3 6ST
FALL SCENES FINISSAGE & EVENTS / SATURDAY 12 OCTOBER 2013 / 134 RENFREW STREET & CCA, GLASGOW
Events taking place inside and outside of Fall Scenes, Saturday 12 October
3pm: Screening event by Brandon Cramm, 3-5pm, CCA cinema, 350 Sauchiehall Street, Glasgow, G2 3JD
6-8pm: Finissage at 134 Renfrew Street
Performance/Talk by Lili Reynaud-Dewar, 7pm
Drinks provided by Le Kevin Costner bar
Edibles by Olivier Castel
For further details and event times visit fallscen.es
Fall Scenes is supported by the GSA Archives and Collections Centre, LUX Artist's Moving Image, The Living Art Museum (Iceland), i8 Gallery (Iceland) and is presented as part of The Glasgow Masters Series 2013.